Moving can be an exhilarating experience, but it can also be a challenging one. Whether you're relocating to a new city or simply downsizing to a cozier place, the need for additional storage space often arises during this transitional period. Storage units offer a practical solution to keep your belongings safe and secure while you focus on settling into your new home. In this article, we will delve into the world of storage units, focusing on long-term storage options, rental costs, and how to find the right storage unit for your needs. 
How Much Are Storage Units to Rent?
Many storage units charge a fixed monthly rate, regardless of how much space you use, potentially leading to unnecessary charges for unused space. At Doree Bonner, we offer a different approach with flexible pricing based on the volume you use. This ensures you only pay for what you need, allowing you to control your storage costs effectively. For personalised quotes on average storage costs in the UK, factors like unit size, duration, and specific requirements need to be considered.  
Security features, such as surveillance cameras and access control systems, can also influence the rental price. Be sure to consider these factors when budgeting for your storage needs; and look for a storage space which includes these key amenities, rather than charges you extra for them.  
Where to Rent Storage Units
Finding a reliable storage facility is crucial to ensuring your belongings remain in good condition throughout their time in storage. When it comes to choosing a storage unit provider, consider the following: 
Location: Opt for a facility that is conveniently located to your new home or current location. Frequent trips to your storage unit will be much more manageable if it's nearby. 
Security: Look for facilities that prioritise security, such as gated access, 24/7 surveillance, and secure locks for each unit. 
Cleanliness: A well-maintained facility will help safeguard your belongings from potential damage caused by pests, dust, or mildew. 
Customer Reviews: Check online reviews and testimonials to gain insight into the experiences of previous customers. 
Amenities: Some facilities offer additional perks, such as bringing the container to you to pack, which can save you both time and money, and add an additional layer of assurance that your items will be protected. 
How Much Do Self-Storage Units Cost to Rent?
When exploring storage options, the cost inevitably plays a crucial role. Removal companies usually determine storage charges based on various factors like the volume of items, storage duration, and specific services requested. To gain a clear understanding of pricing and potential additional fees, it's wise to request a comprehensive quote from the removal company. However, beyond the cost, it's essential to prioritise the quality and security of the storage facility. Ensuring the safety and protection of your belongings should be a significant consideration in the decision-making process. Strike a balance between cost-effectiveness and the reliability of the storage facility to make the best choice for your storage needs. 
Read our comprehensive guide, 'Understanding Storage Prices: A Complete Guide,' for further insights on navigating storage unit rental costs. 
How to Rent Out Storage Units
Renting a storage unit is a straightforward process that begins with thorough research and ends with signing the rental agreement. Here's a step-by-step guide to help you rent a storage unit: 
1. Research: Start by researching storage facilities in your desired location. Check their websites, read reviews, and compare prices and amenities. 
2. Visit the Facility: Before making a final decision, ask if you can visit the facility in person to assess its cleanliness, security measures, and overall condition. 
3. Determine Unit Size: Choose the unit size that suits your needs best. If you're unsure, most facility managers will be happy to assist you in selecting the right unit. 
4. Reserve the Unit: Once you've decided on a facility and unit size, you can typically reserve the unit online or by phone. 
5. Review the Rental Agreement: Carefully read and understand the rental agreement before signing. Pay close attention to the rental terms, fees, and any insurance requirements. 
6. Move-In: On the agreed-upon date, move your belongings into the storage unit. Use this opportunity to organise and label your items for easy retrieval in the future. 
7. Make Timely Payments: Ensure you pay your monthly rental fee on time to avoid any late fees or risk losing access to your unit. 
Renting a storage unit for your long-term storage needs can be an excellent investment, providing you with the peace of mind that your belongings are safe and accessible whenever you need them.  
Doree Bonner International's secure storage service caters to all property types, with prices based on the volume of your belongings, ensuring you pay only for the space you use. Unlike traditional storage units, where you might pay for unused areas, our unique pricing structure offers exceptional value and cost-effectiveness.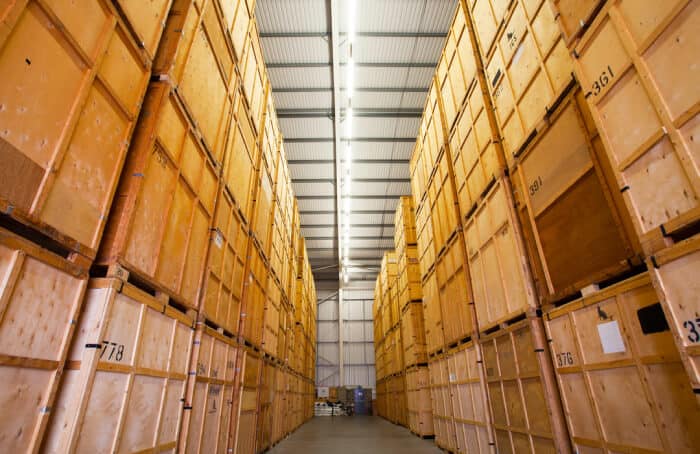 Choosing Doree Bonner International grants you access to:
Flexibility: Embrace the freedom of storage without fixed unit sizes. Our storage containers, compliant with British Association of Removers' guidelines, provide ample space to accommodate household items of various sizes, allowing you to store as much or as little as you need. 
Convenience: Our modern, purpose-built containerised storage centres are strategically situated nationwide, ensuring easy access to your belongings from your location whenever you require. 
Security: Your peace of mind is paramount. Our storage centres are exclusively owned by Doree Bonner International, featuring 24-hour surveillance and alarm systems. Our containers are clean, dry, and equipped with sealing clips for added protection. 
Insurance Options: Safeguard your valuable possessions with our insurance cover options, tailored to suit your needs, ensuring your items are well-protected. 
Get a FREE Online Quote: Estimating the cost of storage has never been easier. Utilise our user-friendly online quote calculator, taking your belongings' volume into account to provide you with an accurate quote. This transparency allows you to make informed decisions before committing to our services. 
Experience the flexibility, convenience, and security of Doree Bonner International for your long-term storage needs. Say goodbye to paying for unused space or settling for fixed unit sizes. Obtain your free online quote today and discover a tailored storage solution designed to meet your specific requirements.