When it comes to picturesque towns nestled in the heart of the Cape Winelands, Franschhoek stands out as a true hidden gem. Located just an hour's drive from Cape Town, Franschhoek offers a unique blend of natural beauty, rich history, and world-class wine estates. If you're looking for a place to live that combines small-town charm with a touch of sophistication, Franschhoek might just be the perfect choice.
Franschhoek, which means "French Corner" in Dutch, has a fascinating history that dates back to the late 17th century when French Huguenots settled in the area. Their influence is still evident today in the town's architecture, cuisine, and culture. The main street is lined with charming Cape Dutch-style buildings that house art galleries, boutique shops, and award-winning restaurants. Walking along these tree-lined streets feels like stepping back in time, with the added touch of French flair.
One of the main draws of Franschhoek is undoubtedly its wine industry. The town is surrounded by vineyards and has gained international acclaim for its exceptional wines. The Franschhoek Wine Valley is home to over 50 wineries, ranging from small family-run estates to large and well-established producers. Wine enthusiasts will delight in exploring the various wine farms, indulging in wine tastings, and learning about the art of winemaking. The annual Franschhoek Wine Tram is a popular attraction, offering a unique way to hop on and off at different wine estates while enjoying breath taking views of the valley.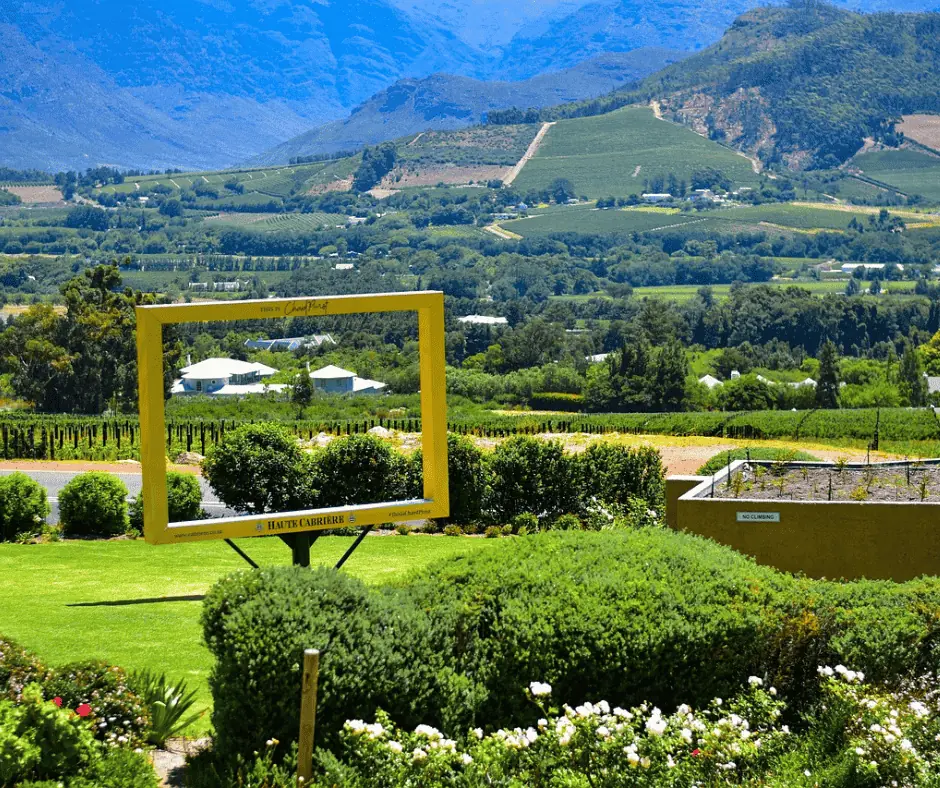 Beyond its wine heritage, Franschhoek is also a haven for food lovers. The town is known as the culinary capital of South Africa, boasting some of the country's finest restaurants. From elegant fine dining establishments to cosy bistros and farm-to-table experiences, Franschhoek offers a gastronomic adventure like no other. Many of these restaurants are located on wine estates, providing a stunning backdrop of vineyards and mountains as you savour gourmet dishes paired with exceptional wines.
Nature lovers will find plenty to explore in and around Franschhoek. The surrounding mountains and valleys offer opportunities for hiking, mountain biking, and picnicking amidst breath taking scenery. For a bird's-eye view of the area, a hot air balloon ride over the vineyards is an unforgettable experience. Franschhoek is also within easy reach of other popular tourist destinations in the Cape Winelands, such as Stellenbosch and Paarl, allowing for day trips and further exploration of the region.
In terms of lifestyle, Franschhoek strikes a balance between tranquillity and convenience. While it may have a small-town feel, it offers all the amenities one would need, including grocery stores, healthcare facilities, and schools. The community is close-knit and welcoming, and the town hosts various events throughout the year, such as the Franschhoek Bastille Festival and the Franschhoek Literary Festival, which further contribute to the vibrant and inclusive atmosphere.
When it comes to finding a place to live, Franschhoek offers a range of housing options to suit different preferences and budgets. Whether you prefer a historical Cape Dutch-style home, a modern apartment, or a country estate surrounded by vineyards, Franschhoek has something for everyone.
Franschhoek really is a true hidden gem in the Cape Winelands of South Africa. Its unique blend of natural beauty, rich history, exceptional wine, and culinary delights make it an attractive place to live.
Moving to Franschhoek – Choose Doree Bonner International
For a smooth and hassle-free move to Franschhoek, choose Doree Bonner International, the move experts. With our extensive experience in the international relocation industry, we provide reliable and professional services tailored to your specific needs. Our team of experts will handle every aspect of your move, from packing, storage and relocation services to unpacking and setting up your new home. Trust Doree Bonner International to make your move to Franschhoek a seamless and enjoyable experience. Contact us for a personalised moving solution.
When transferring funds or converting currency for property purchases and financial transactions, choose our preferred partner, Smart Currency Exchange. With competitive rates, low fees, and personalised service, your money will be transferred securely and efficiently.